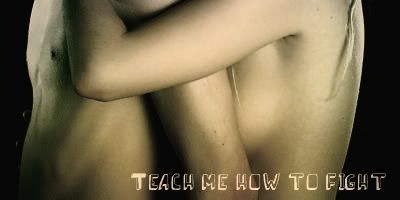 Junior Boys fue una sorpresa agradable durante el año pasado. Su single "Birthday" generó conmoción en el circuito electronico (de corriente chill out), demostrando que se pueden escribir canciones con sentido bajo una base ritmica programada en computador, sin perder un ápice de emoción en su ejecución.
Del mismo disco desde el cual se desprendió ese single, hoy presento la hermosa canción "Teach Me How to Fight", en dos versiones que difieren en dos aspectos fundamentales. Por una parte, corresponden a cortes de dos discos diferentes de Junior Boys (la versión musical es de "Last Exit" del año 2004 y la versión con Vocal inside es de "Body Language Special Edition" del 2008), y por otra parte, la diferencia radical gira en torno al mensaje que brinda cada una de ellas. En la versión vocal, la vivencia de querer inflingir dolor en el otro se hace carne propia, necesidad basica en la lucha por demostrar supremacia de poder ante un otro. El ritmo candencioso de ambas ediciones entrega un background perfecto para entrometerse y hacerse parte de esta vital historia.
" There were times in the past
If I had the move, I couldn't make it last
Girl, it's wasted in the night
And is it really so hard?
Tell your body to forget the words
Pushing you too hard "
Descargar "Teach Me How To Fight" (CD Single Minicassette Version)
16.78 Mgs - Formato .Rar
Zshare
Pass: minicassette
Como siempre...
Enjoy!
Comparte!